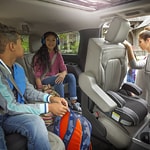 The 2020 Ford Expedition is more than a standard SUV. This remarkable SUV is full-size, has an EcoBoost engine, and provides all-wheel-drive capability. The SUV's exterior is bold thanks to its exceptional features, and consumers can choose from a myriad of exterior colors.
When it comes to the interior, consumers will receive a good amount of enjoyable features. First things first, premium audio is available via Bang/Olufsen. This audio system produces music the way that it was intended to be heard. You and your passengers can even charge external devices via the USB and auxiliary ports. The Expedition goes on to offers HD radio, SiriusXM radio, 15 beverage holders, and much more. Some of the softest and illuminating interior lighting is also present within the SUV's cabin.
The 2020 Ford Expedition has set a new precedent, and it's looking to push new trends in SUV production.